Hearsay
You may have heard your neighbor say he can. Or a family member. Or a co-worker. It may be a question that you kick around in your head once in a while. Especially when it seems "obvious" that it is time to buy or sell in the market.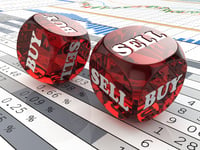 Secrets
Maybe there is a secret rule out there that you could find, if only you knew the right person? With all of the "smart" people that claim to have a special strategy to beat the market, how do you know who's right?
What if there is a better way to answer the question?
Analysis
Thankfully there is a better way. In the video below, Jim Davis from Dimensional Funds, explains how they analyzed a very wide range of trading strategies to see if there were any relaible winners. At the end of the day, he's trying to answer the question of whether we can identify any strategy in advance. It would need to be a reliable strategy that will help investors avoid the big downturns, while not missing the long bull markets that can make or break your overall return.
Watch the video and see what you think. If you like this one, check out our earlier post about the situation in Greece.